Tennessee Williams was an American playwright who helped to revolutionize the American stage. His plays were innovative with memorable, relatable characters that were not soon forgotten.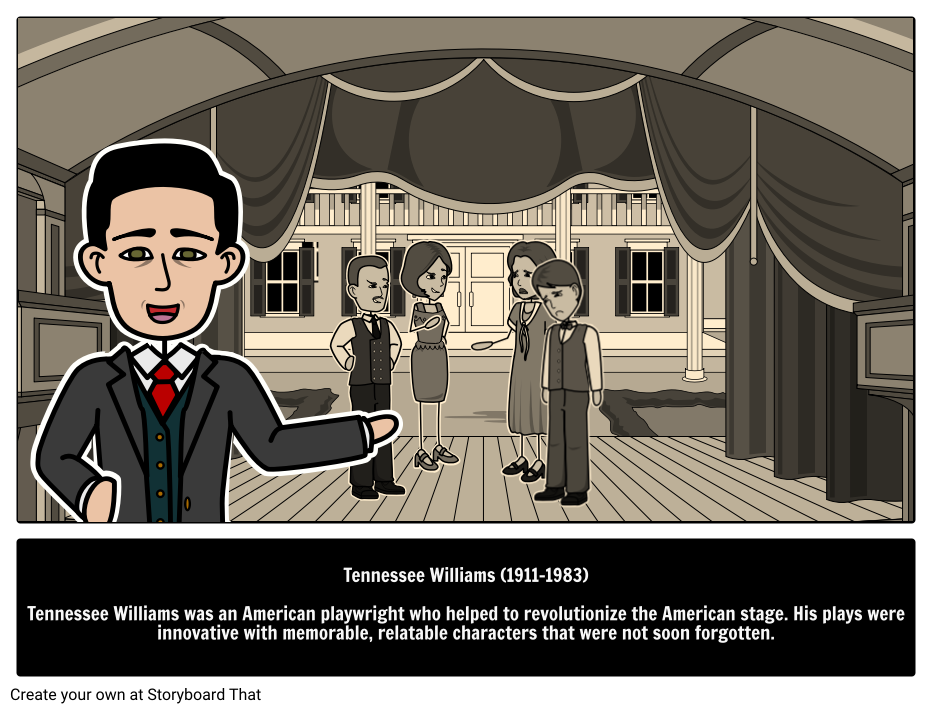 Tennessee Williams
Born Thomas Lanier Williams in 1911 in Columbus, Mississippi, the Southern charm was irresistible to the young boy who grew up relatively carefree for eight years. When the family moved to St. Louis, Missouri, however, things began to be more difficult for Williams and his family, with his father's worsening alcoholism making them have to move frequently.
Williams himself became addicted to drugs and alcohol as a young man, and this battle with addiction continued until his death. He was also gay, which caused some personal hardships in a less-than-understanding world in the early 20th century. Williams channeled a lot of his own experiences and drew inspiration from his family members for his plays. In particular, his sister Rose (who was later diagnosed with schizophrenia) was the primary inspiration for Laura in The Glass Menagerie. He drew many parallels to himself in the role of Tom, and his mother was caricatured through Amanda.
A Streetcar Names Desire is arguably William's most popular play. Blanche DuBois and her sister Stella are unforgettable characters who are caught in a web of emotional and physical domestic abuse by Stanley, Stella's husband. Stanley's rape of Blanche and her rejection by Mitch because of her past causes the formerly strong, independent woman to have a mental breakdown.
Cat on a Hot Tin Roof was the last of Williams' blockbuster plays, and it was adapted into a very successful movie. It follows the wealthy southern Pollitt family as they unravel a web of lies and deceit that have built up for many years, including Brick and his friend Skipper's true relationship, his broken marriage to Maggie, and his scheming brother Gooper and his wife Mae. Ultimately they reveal to their parents that Big Daddy was not given a clean bill of health from his cancer, and the parents are devastated—until Maggie claims she is pregnant, vowing to make the lie a truth.
Williams died in a hotel room in New York City in 1983, having lost his battle with addiction.
Famous Works of Tennessee Williams
A Streetcar Named Desire
Cat on a Hot Tin Roof
The Rose Tattoo
Tennessee Williams Quotes
"When I write I don't aim to shock people, and I'm surprised when I do. But I don't think that anything that occurs in life should be omitted from art, though the artist should present it in a fashion that is artistic and not ugly. I set out to tell the truth. And sometimes the truth is shocking."
"Memory takes a lot of poetic license. It omits some details; others are exaggerated, according to the emotional value of the articles it touches, for memory is seated predominantly in the heart."
"Silence about a thing just magnifies it."