George Eliot was the pen name for the English Victorian writer Mary Ann Evans. Eliot wrote Realist novels, which detailed the daily lives and social expectations of her characters. She is best known today for her novels Middlemarch, Daniel Deronda, and Silas Marner.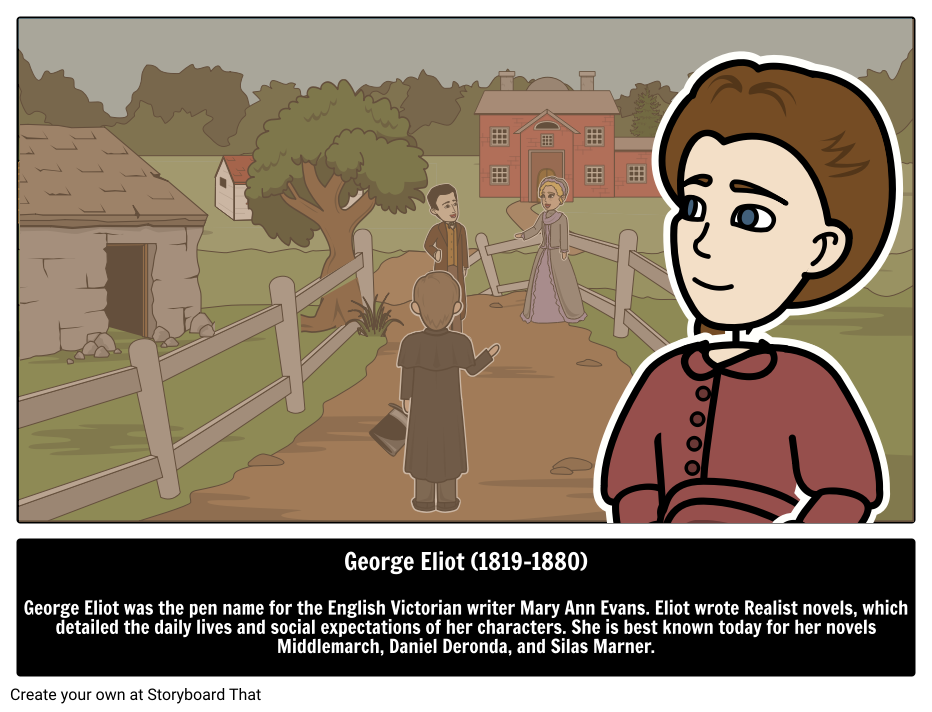 George Eliot
Eliot was born on November 22, 1819 in Warwickshire, England. She received a classical education, but veered away from the traditional thinking of her family in her early twenties. Her association various radical philosophical and literary circles, led her to reject the Christianity she had been raised with, but embrace a sense of moral duty. In the early 1850s, Eliot met George Lewes, a journalist who lived estranged from his wife. Eliot and Lewes began a relationship and lived as common law husband and wife for the next 25 years. Lewes encouraged Eliot's literary aspirations, and she began publishing short stories, poetry, and eventually novels. The social stigma she faced as Lewes's unlawful wife combined with the disparaging treatment female writers received at that time, led Eliot to adopt her pen name.
Eliot's novels are most famous for their realism and underlying moral themes. Like other Victorian Realists, Eliot included detailed portraits of ordinary people. Her accurate use of dialect intensified the immersive effect of her writing. Her most celebrated novel, Middlemarch, is praised for its expansive portrayal of English society, detailing the life of every social class and weaving their plot lines together. The novel engages questions of art, politics, literature, and morality as it progresses, exploring, in particular, the conflict between women's sense of duty and desire for a happy marriage. Eliot revisits this theme in her 1876 novel Daniel Deronda, notable for its avant-garde portrayal of a Jewish hero and protagonist. Eliot's writing has been both lauded and criticized for its intrusive narrative voice. Eliot offers up her own philosophical commentary throughout her novels, resulting in some of the most oft-quoted selections. In recent years, Eliot's novels have been adapted into several films and TV series, reintroducing her engaging stories and themes to new generations.
George Eliot Books
Middlemarch
Daniel Deronda
Mill on the Floss
The Lifted Veil
Adam Bede
Romola
Felix Holt, the Radical
Scenes of Clerical Life
The Spanish Gypsy
Brother Jacob
George Eliot Quotes
"Every limit is a beginning as well as an ending."
"Resolve will melt no rocks. But it can scale them."
How Do I Use This?
Our digital picture encyclopedia resources have easy to understand information with a visual in order to activate understanding and retention. Storyboard That is passionate about creating resources that inspire children to be storytellers, and we want students of all ages to have the ability to showcase what they have learned.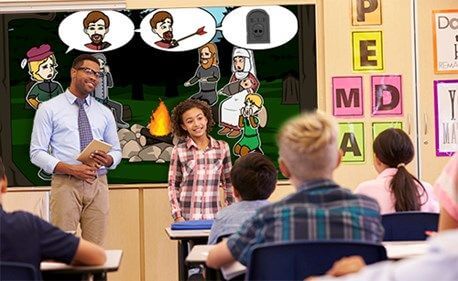 Assign a term/person/event to each student to complete their own storyboard
Create your own picture encyclopedia of a topic you are studying
Create a picture encyclopedia of the people in your class or school
Post storyboards to class and school social media channels
Copy and edit these storyboards and use as references or visuals
Learn more about people who have influenced history in our
Picture Encyclopedia
!
*(This Will Start a 2-Week Free Trial - No Credit Card Needed)
https://www.storyboardthat.com/biography/george-eliot
© 2022 - Clever Prototypes, LLC - All rights reserved.