Born in 1820 in Florence, Italy, Florence Nightingale was born into a wealthy British family. She went on to be known as the 'Lady with the Lamp' and revolutionized the nursing profession.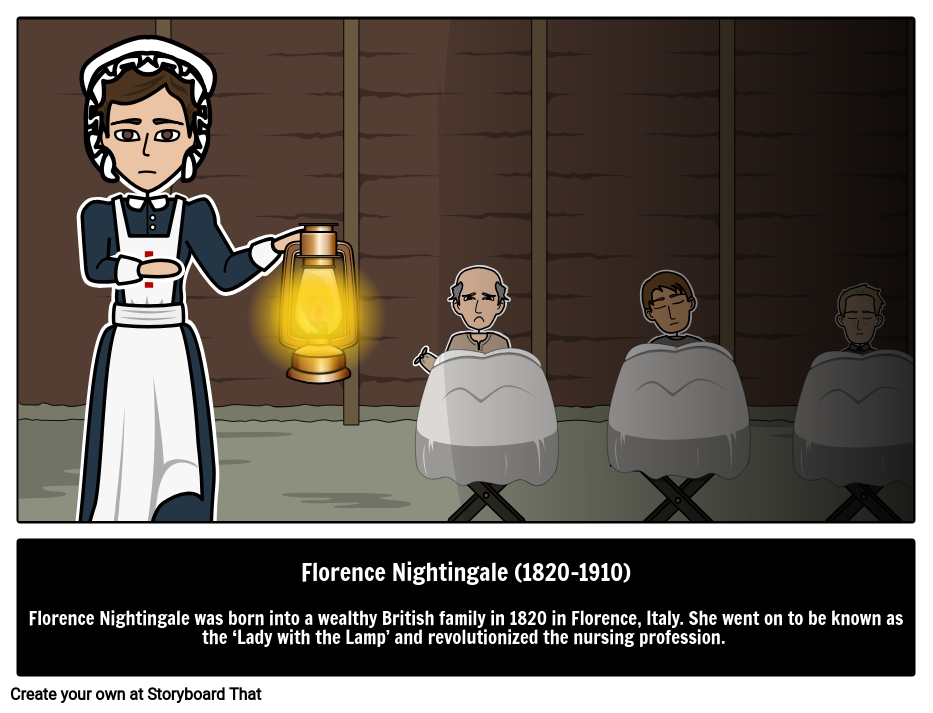 Florence Nightingale
From a young age, Florence Nightingale demonstrated a desire to help others and she regarded nursing as her divine calling. Her family disapproved of this vocation, viewing it as an unsuitable profession for their daughter and insisting that she should instead follow social convention and devote her life to being a wife and mother. Nightingale refused to marry, insisting that she would follow her calling and become a nurse.
Nightingale excelled as a student. In 1850 she completed her initial training as a nurse over a two week period at the Institute of Protestant Deaconesses in Germany. This was followed by a second period of training the next year. She secured employment at a London hospital where her talents – not only as a nurse but also as someone able to organize and run a hospital – were clear.
The Crimean War broke out in October 1853. A conflict between the Russian Empire and the Ottoman Empire, it was supported by other countries such as Britain and France. In reaction to the public outcry over the poor treatment of wounded British soldiers, the British Secretary of State for War wrote to Nightingale and asked her to lead a group of nurses to attend to troops. By this time, Nightingale had a formidable reputation as a gifted nurse.
Nightingale traveled to the army hospital in Scutari (modern day Istanbul) and was appalled at the conditions she found. She set to work, securing funds and purchasing the supplies she needed to enable her to implement drastic changes and improvements to care, treatment, and hygiene. In addition to organizing the new hospital regime and training other nurses, Nightingale attended to patients herself, working tirelessly and putting in long hours. The systems she put in place resulted in a drastic reduction in the mortality rates at the hospital. She was admired for the unwavering compassion she showed her patients.
Nightingale worked at the hospital until the end of the conflict in the summer of 1856 and had earned the nicknames 'the Lady of the Lamp' and 'the Angel of Crimea'. She returned to England where she received wide praise for her work and continued to pursue her vocation. She went on to fund the Nightingale Training School of Nursing and Midwifery which continues to train aspiring nurses today as part of King's College London.
Nightingale died at home in London in 1910 at the age of 90. She left a legacy that improved standards of patient care and hospital sanitation. She achieved all this in a social context that limited opportunities for women and failed to see the value of education and careers for women. Her work changed the face of the nursing profession, and she is honored by the International Committee of the Red Cross, who give a two-yearly award for outstanding services to nursing in her name.
Florence Nightingale Accomplishments
Modernized the nursing profession and implemented standards of care and hygiene.
Drastically reduced mortality rates at the hospital in Scutari where she was based during the Crimean War.
Published influential works setting out her ideas for healthcare reform.
Florence Nightingale Quotes
"God spoke to me and called me to His service."
"Wise and humane management of the patient is the best safeguard against infection."
"The greatest heroes are those who do their duty in the daily grind of domestic affairs whilst the world whirls as a maddening dreidel."
How Do I Use This?
Our digital picture encyclopedia resources have easy to understand information with a visual in order to activate understanding and retention. Storyboard That is passionate about creating resources that inspire children to be storytellers, and we want students of all ages to have the ability to showcase what they have learned.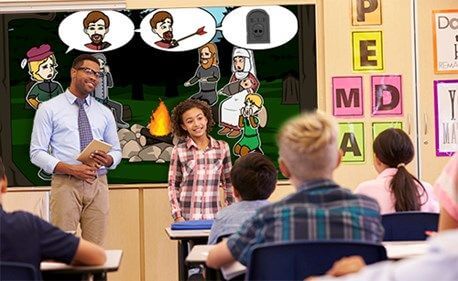 Assign a term/person/event to each student to complete their own storyboard
Create your own picture encyclopedia of a topic you are studying
Create a picture encyclopedia of the people in your class or school
Post storyboards to class and school social media channels
Copy and edit these storyboards and use as references or visuals
Learn more about people who have influenced history in our
Picture Encyclopedia
!
*(This Will Start a 2-Week Free Trial - No Credit Card Needed)