Ruth Bader Ginsburg (1933-2020) was a scholar, a lawyer and a Supreme Court Justice who fought for women's rights, voting rights, and equal rights for all throughout her lifetime. She served on the Supreme Court for 27 years until her death in 2020.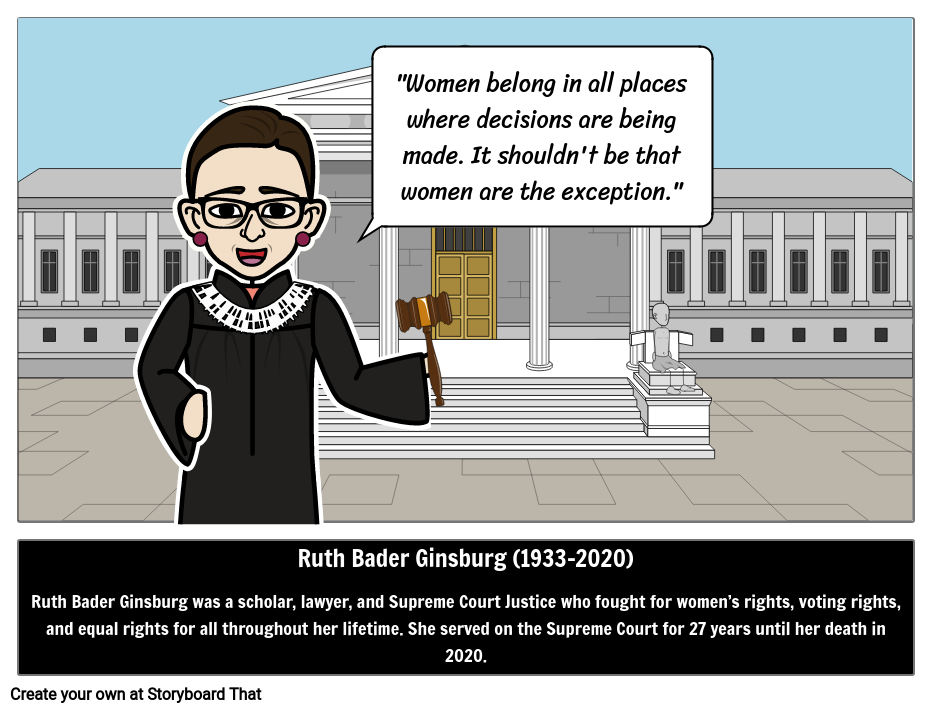 The Life and Legacy of Ruth Bader Ginsburg
Education: After graduating first in her class at Cornell, Ginsburg enrolled in Harvard Law School as one of only 9 women in her class of over 500. The dean of the law school questioned the women, "How do you justify taking a spot from a qualified man?" Outright discriminations and sexism was commonplace, Ginsburg was even barred from certain law libraries at Harvard because she was a woman. But, that didn't stop RBG! She again was top of her class and even became the first female member of the Harvard Law Review. Unfortunately, in 1956, Ginsburg's husband Marty suffered from cancer and had to endure extensive treatment. Ginsburg not only continued with her own classes, but took notes for Marty in his classes as well, all while continuing to care for their young daughter, Jane. In 1956, Marty graduated from Harvard Law and was offered a position at a firm in New York City. Ruth left Harvard and transferred to Columbia Law School in New York. She again was elected to the Law Review there and again graduated first in her class in 1959!
Early Legal Career: Despite Ginsburg's extraordinary academic achievements, she was barred from many employment opportunities as many law firms refused to hire women. Ginsburg landed a job as a clerk for U.S. District Judge Edmund L. Palmieri from 1959-1961. From 1961–1963, she was a research associate and associate director at Columbia Law School.
From 1963-1972 Ginsburg was a Professor of Law at Rutgers University. At Rutgers she was informed that she would earn less than her male colleagues for the same work simply because she had a husband who made a good salary. She banded together with other female professors to file a suit against Rutgers and they won! Ginsburg also had to hide her second pregnancy with her son, James. She feared that if it was known, her contract wouldn't be renewed as women were often fired for getting pregnant at the time.
In 1971, Ginsburg brought her first case before the Supreme Court with Reed vs. Reed. In the case a husband and wife were divorced and then had the tragedy of losing their son. The wife filed to be executor of the son's estate but lost because she was a woman. Ginsburg argued that women and men should be considered equally as executors of estates. She won! It was the first of many gender discrimination suits that Ginsburg would champion.
From 1972-1980, Ginsburg obtained another teaching job as a Professor at Columbia Law School. At Columbia, Ginsburg became the school's first female to gain tenure. While she was a professor, Ginsburg was also the director of the Women's Rights Project of the American Civil Liberties Union. The Women's Rights Project looked at the hundreds of federal laws that discriminated on the basis of sex. Women were discriminated against in the areas of education, employment, mortgages, credit cards, housing, prison and the military. The thinking at the time in some cases was that women should be treated differently as a way of protection, for example not being required to lift more than 15 lbs at work or not being required to work late at night. Ginsburg later explained her thinking on this in arguing Weinberger v. Wiesenfeld in 1975: "A gender line... helps to keep women not on a pedestal, but in a cage."
Landmark Gender Discrimination Cases
As General Counsel for the ACLU from 1973-1980, Ginsburg argued 6 lawsuits in front of the U.S. Supreme Court that paved the way for gender equality.
In 1973, in the case of Frontiero v. Richardson, Frontiero, a female lieutenant in the U.S. Air Force, was barred from applying for benefits for her husband because he was a man and she was a woman. Ginsburg argued that this violated the Constitution's Due Process Clause and won with a decision of 8-1.
In 1975, the case of Weinberger v. Wiesenfeld involved a man whose wife died in childbirth who sought out Social Security benefits after her passing so he might care for his infant son. Because he was a man, a widower, he did not qualify as the benefits only applied to widows. RBG argued that denying this father the right to Social Security benefits based on his sex was unconstitutional and she won in a unanimous decision!
Also in 1975, in the case of Edwards v. Healy, women were not allowed to serve on juries in Louisiana unless they requested to serve in writing. Ginsburg argued that this violated the Constitution's Equal Protection Clause as well as the Due Process Clause. The Supreme Court struck down the Louisiana law as unconstitutional.
In 1977, the case of Califano v. Goldfarb was another case where a widower applied for survivor's benefits under the Social Security Act and was denied because she hadn't been the "breadwinner". Ginsburg argued that this statute was unconstitutional and violated the Due Process Clause. This landmark victory against discrimination on the basis of sex was made possible by the earlier cases Ginsburg has won that provided its precedent.
In 1979, Missouri made jury duty optional for women. Because of this, juries were most often male only. In the case of Duren v. Missouri, Billy Duren was convicted of first-degree murder and robbery by an all-male jury. Ginsburg argued that an all-male jury was a violation of Duren's right to a fair trial because it was not a jury chosen from a fair cross section of the community. Ginsburg further argued that making women's jury duty optional created the perspective that women's service was less valuable than men's.
Supreme Court Cases
Ginsburg was confirmed with a vote of 96-3 and took her seat on August 10, 1993, joining the Supreme Court as an associate justice. Here are some of the landmark cases that she presided over:
In 1996, in United States v. Virginia, she wrote the majority opinion of the court which ruled that government funded schools must not deny access to women. It ruled that Virginia Military Institute's men-only policy violated the 14th Amendment's equal protection clause.
In 1999, in the case of Olmstead v. L.C., the court ruled in favor of two women with mental disabilities who had been ordered to remain in a secure psychiatric facility. They had been evaluated to be able to thrive in a community-based program, but were denied the opportunity. The Supreme Court ruled in favor of the women acknowledging the rights of people with disabilities.
In 2015 with the case of Obergefell v. Hodges, the Supreme Court ruled decision that same-sex marriage bans were unconstitutional in a victory for LGBTQ Americans. This 5-4 ruling legalized same-sex marriage in every state.
In 2016 in the case of Whole Woman's Health v. Hellerstedt, the Supreme Court ruled that state regulations that imposed undue restrictions on a woman's right to an abortion, like the H.B.2 law, should be struck down.
Famous Dissents
Even Ginsburg's dissents (opinions expressing disagreement with the majority ruling) could be just as influential and effective as when she ruled with the majority.
In 2000, in the case of Bush v. Gore following the controversial presidential election that featured many miscounted votes due to malfunctioning voting machines, the Supreme Court halted the recount in Florida and subsequently declared Bush the winner. In her dissenting opinion, Ginsburg famously wrote, "I dissent." This was a departure from the traditional way dissenting opinions were written where the justice would write, "I respectfully dissent".
In the 2007 case of Ledbetter v. Goodyear Tire & Rubber Company, Lilly Ledbetter discovered after retirement that she had, for years, been making far less than men in the exact same position. The majority ruled against her, however because the Civil Rights Act had a statue of limitations for reporting on discrimination and the time had passed. RBG wrote in her dissent that "Compensation disparities . . . are often hidden from sight" and that "The court does not comprehend…the insidious way that women can be victims to discrimination". She felt it was reasonable that Ledbetter wasn't aware of the wage disparity until years later and that just because she wasn't aware of it that did not make it right or just. Ginsburg said that "the ball is in Congress's court" to change the rule. Because of this, in 2009, President Barack Obama signed the Lilly Ledbetter Fair Pay Act which extended the Civil Rights Act's statute of limitation and guarantees women equal pay for equal work.
In 2013 the Voting Rights Act of 1965 was adversely affected with the Supreme Court's decision in Shelby County v. Holder which dismantled one of the Voting Rights Act's key provisions, requiring that states with a history of racial bias in voting get permission before passing new voting laws. Shelby County had redrawn its district lines which changed a district that had been 70% African American to become one with only 29% African American, which resulted in the city council's lone African American member to lose his seat. The court ruled in a 5-4 decision that these "preclearance" restrictions on states were outdated and no longer necessary. In her dissent, Ginsburg wrote, "Throwing out preclearance when it has worked and is continuing to work to stop discriminatory changes is like throwing away your umbrella in a rainstorm because you are not getting wet." In the years since this decision, stricter voter ID laws and restrictions to mail in voting and other obstacles have cropped up in many states effectively stripping the right to vote from millions of Americans, specifically targeting the poor, elderly, African Americans, Latinos and Native Americans.