Mark Twain was a nineteenth century American writer and humorist, famous for his use of regionalism in his short stories and novels, including The Adventures of Tom Sawyer and The Adventures of Huckleberry Finn.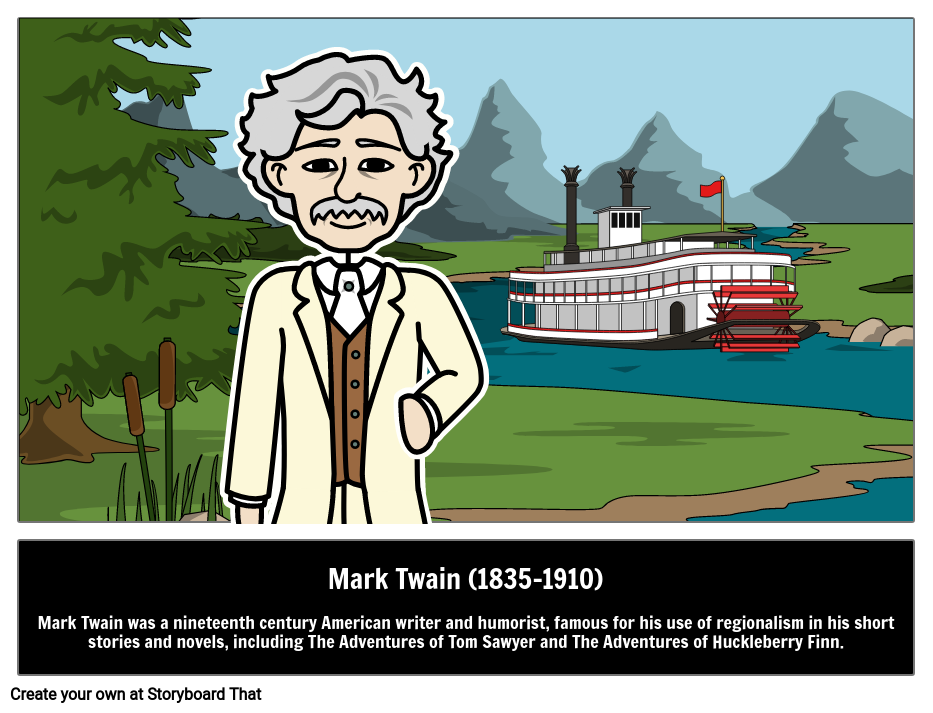 Mark Twain
Mark Twain was a nineteenth century American writer and humorist, famous for his use of regionalism in his short stories and novels. Born Samuel Langhorne Clemens on November 30, 1835, Twain grew up in Hannibal, Missouri. There, he became accustomed to the rhythms of life of the small port on the Mississippi River. The river fascinated him and, at the age of 22, he left work in a print shop to train as a pilot on a Mississippi steamboat. His years piloting the great American river gave him the idea for his eventual pen name, "Mark Twain", a term riverboat navigators would use to measure water depth.
Twain's first literary breakthrough came in 1865 when several newspapers and magazines published his short story, "The Celebrated Jumping Frog of Calavaras County", a humorous fiction which deals with long-winded storytellers and a frog race rigged by a dishonest competitor. The mundane subject of the tale along with the prominent use of regional dialect marked a departure from the accepted conventions of serious writing. Twain's popularity and public renown increased with his 1869 novel Innocents Abroad in which an American tourist humorously recounts his experiences traveling across Europe. Twain's distinctly American voice and frequent use of colloquialisms, though not present in all his works, became his best-known hallmarks. These characteristics dominate the two works that have remained most famous today: The Adventures of Tom Sawyer and The Adventures of Huckleberry Finn.
Twain's distinctive style commonly delved into satire and social moralizing, both of which are present in Tom Sawyer and Huckleberry Finn. The novels rely on the personages and language common in small town America during the 1800s. The stories also convey a certain nostalgia for a formerly bucolic America and the blissful freedom of childhood. Generally considered the most powerful of his works, Huckleberry Finn derives its thematic depth from its moral exploration of American slavery and its legacy. Though many believe that the novel criticizes the institution and its prejudices, others argue that it perpetuates racism through its many stereotypes and offensive epithets. Banned by some publishers and schools at its publication for its supposedly coarse and immoral subject matter, it has remained one of the most frequently banned books to the present date due to the racist controversy it continues to arouse.
Though Twain's own philosophy was clearly complicated and cannot be reduced to the themes of a single book, there is no doubt that his thinking left its mark on American literature. Author Ernest Hemingway even claimed that "All modern American literature comes from one book by Mark Twain called Huckleberry Finn". His books, with their regionalism and humor, were a welcome addition to the Realist literature of the nineteenth century.
Famous Works of Mark Twain
The Tragedy of Pudd'nhead Wilson
"Luck"
A Connecticut Yankee in King Arthur's Court
"The Celebrated Jumping Frog of Calaveras County"
Mark Twain Quotes
"Courage is resistance to fear, mastery of fear—not absence of fear."
"If you tell the truth, you don't have to remember anything."
"You can't depend on your eyes when your imagination is out of focus."
How Do I Use This?
The picture encyclopedia storyboards have easily digestible information with a visual to stimulate understanding and retention. Storyboard That is passionate about student agency, and we want everyone to be storytellers. Storyboards provide an excellent medium to showcase what students have learned, and to teach to others.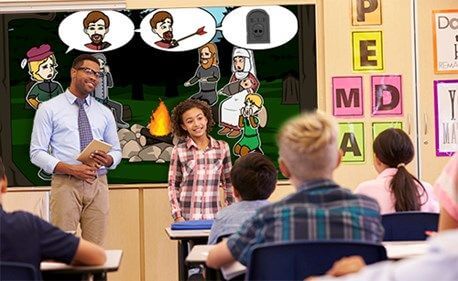 Use these encyclopedias as a springboard for individual and class-wide projects!
Assign a term/person/event to each student to complete their own storyboard
Create your own picture encyclopedia of a topic you are studying
Create a picture encyclopedia to the people in your class or school
Post storyboards to class and school social media channels
Copy and edit these storyboards and use as references or visuals
Learn more about people who have influenced history in our
Picture Encyclopedia
!
*(This will start a 2-Week Free Trial - No Credit Card Needed)